Bruntwood SciTech's £21m operationally net zero tech hub 'Base' has reached practical completion.
Located at Manchester Science Park (MSP), it has been designed both for companies working in Industry 4.0 and for those moulding the next generation of skilled 'tech talent'.
Work on the five-storey, 91,000 sq.ft development started in December 2020 at the height of the pandemic, led by main contractor Caddick Construction.
'Next step' in the masterplan
Bruntwood SciTech is a 50:50 joint venture between Bruntwood and Legal & General. It describes Base as the next step in its 1 million sq.ft masterplan for MSP.
MSP hosts more than 150 fast-growth startups, scaleups and global businesses working in digital health, cybersecurity, digital technology, MedTech, light manufacturing, BioTech and diagnostics.
Base offers a mix of office space and a dedicated makerspace workshop for the prototyping of new, or modifying existing products.
The building also comprises a welcome lounge with breakout space, meeting rooms including a 24 person board room, internally secure cycle storage with a sports kit drying room, showers and lockers, and an indoor/outdoor roof terrace event space for up to 165 people.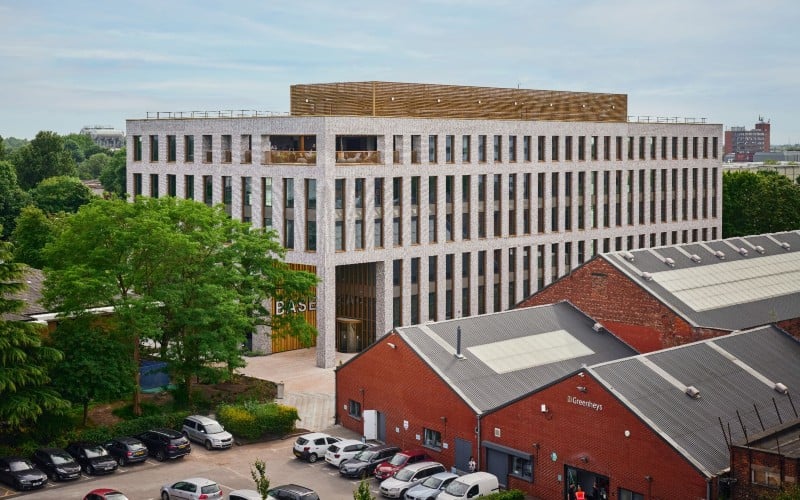 Base is the first major redevelopment at Manchester Science Park to incorporate a number of sustainability measures which will enable the building to operate at net zero carbon across common areas.
They include 704 sq.metres of solar PV panels which is expected to generate around 114 MWh of electricity per year, and a hybrid heating and cooling system with a significant reduction in refrigerant gases.
Over 360 sq.metre of carpet from the former Base building has been recycled – 60% of which has been reused as flooring finishes, while the remainder has been turned into useful energy through a waste-to-energy facility.
These measures will help to reduce the building's carbon footprint by 22% and have supported the building in achieving an EPC A rating, the company said.
The pedestrian links through the campus to Oxford Road have also been improved as part of the investment in the external landscaping, which includes 50 new trees, wild grasses, bird nest boxes and below-ground beehives.
Bradley Topps, commercial director at Bruntwood SciTech, commented: "Our long-term vision for Manchester Science Park is one step closer as Base reaches its completion milestone.
"Base will play a significant role in supporting the growth of Manchester's knowledge economy and will become a new specialist hub in the city, building on the region's internationally recognised tech and manufacturing cluster.
"The construction of Base during one of the toughest economic and uncertain periods of our time has been no mean feat but it's testament to the resilience and sheer commitment of our internal project team, Caddick, and the wider contractor team that we complete the build almost to the same timings that we intended when the building was designed, long before the pandemic began.
"We have a sustained commitment to investing in Manchester's knowledge infrastructure for science and tech businesses and look forward to an official opening of Base in a few months time."
The development of Base is supported by a £15.5m loan from the North West Evergreen Fund, managed by CBRE's Investment Advisory team, which is part of CBRE Capital Advisors.
Greater Manchester Combined Authority (GMCA) also awarded a £4m grant from the Getting Building Fund for the construction of the building in support of the city-region's economic recovery from the pandemic.
Base is designed by Bridge Architects and supported by Walker Sime, Buro Happold, DW Consulting Engineers, and BDP.
Image credit: Bruntwood SciTech
---
Read next: Plans unveiled for Scotland's first 'living building'
Are you a building professional? Sign up for a FREE MEMBERSHIP to upload news stories, post job vacancies, and connect with colleagues on our secure social feed.